Organizational Structure

Development History
Beijing Tianben Technology and Trade Co., Ltd. was founded in 1996. From the beginning, we always
provide qualified services in IT and game industry. The business has expanded to many developed area
domestic and overseas.
Network System Engineering Department was established in 1996, which witnessed Tianben growing
and thriving. Along with business expanding, the department has extended to Shanghai, Dalian, Hong
Kong, Guangzhou, Chengdu, Xi`an, Qingdao, Shenyang, USA and Canada. The company`s prosperity
is profit from leaders` right decision and every staff`s best services. The customer`s recognition is our
motivation.
In 2004, Tianben has formally entered the software development industry with experience in the IT
industry, and quickly became a famous domestic game software development team. In 2001, the
company introduced the abroad technology and video game products "good luck ping-pong" in China.
In 2002, we cooperated with the famous Japanese game development company "HUDSON" and "TAiTO",
and introduced many mobile phone games into Chinese market, which got high praise from game users.
On May 2003, the mobile game "bomb" got the excellence award on the first JAVA Mobile and Internet
Application Design Competition.Software development business got rapid development from 2005.
At the same year, Tenben in Japan was founded, and the company began to expand overseas market.
In 2008, TENBEN INC. was established in Los Angeles, and game business is developing rapidly in the
United States. We participate in the game exhibitions every year, such as Electronic Entertainment Expo/
Exposition and Game Connection, in which we can share the game works with large game companies,
and make business negotiations friendly. Thanks to the cooperation with well-known game companies,
such as Activision and Artdink successively, our works` style can be diversified developed.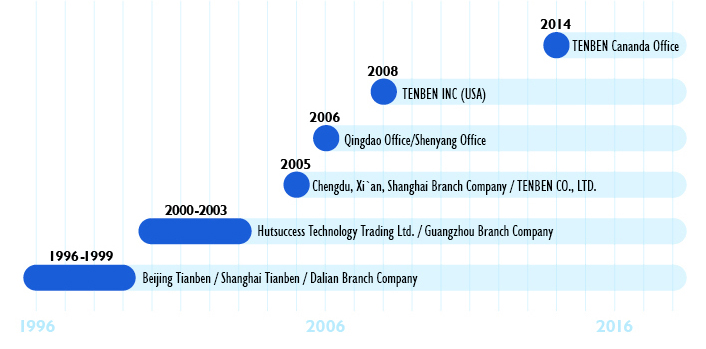 Enterprise Honor